YMT-200 Corn Noodles Machine Corn Noodle Machine
Product Detail
Production Case
Corn noodles machine usage:
Corn noodles machine is designed to make grain noodles, such as corn noodles, buckwheat noodles and Korea cold noodles. The process does not need any additives. It is the core equipment in producing coarse grain health food.
Working principle of corn noodle machine:
Win Tone YMT-200 corn noodle machine can process 200kg of coarse grain noodles per hour. The raw material is grain flour which has been peeled, such as peeled corn flour and buckwheat flour. First, we add water to the raw material for blending in the flour bucket blender. Then the material enters through the feeding port. When the temperature rises to 80°-120°, the material becomes ripening, then the raw material enters into the second propeller working cylinder for continuous squeezing and is extruded into grain noodles out of the forming mould. Then the grain noodles are cooled for forming by cooling blower. After the above process, the noodles just need the follow-up processing and then become the popular grain noodles in the market.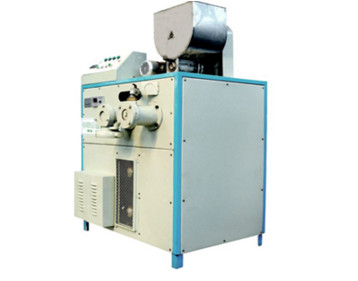 Corn noodles machine features:
No additives in the process, healthy food.
High tenacity and elasticity. Crystal clear color, pure and natural taste, and rich nutrition.
Technical parameter of corn noodle machine:
Model

Yield

Power

Pattern Size(mm)

Weight

Outline Size

(kg)

(kw)

Circular Hole Pattern

Square Hole Pattern

(kg)

(mm)

YMT-200

200

18.5+0.75

Φ1.2

3x0.5

1000

1180x1060x1850

Φ1.5

5x0.5

Φ1.8

8x0.5
Accessories: triangular belt, sieve plate, forming mould.
Corn noodles machine end products:

---
Previous:
Back to list
---