Corn Artificial Rice Production Line
Product Detail
Production Case
Corn artificial rice production line introduction:
Corn artificial rice production line adopts computer control and micropore extrusion technology for reengineering molding. It has the similar appearance with rice, but their nutrition and features are different. We can use our patent technology to keep the original nutritional ingredients. The corn artificial rice is bright and has golden color, compact structure, balanced nutrition, and strong health care effect. It is easily cooked, and has no need of washing. The storage period is long. We can steam, boil and braise the corn artificial rice directly when we cook. We can also mix the corn artificial rice with ordinary rice together by certain proportions. The cooked rice has chewy taste and pure aromatic corn flavor.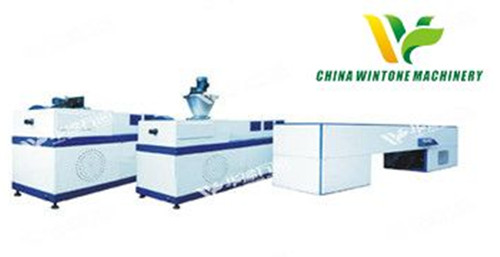 Corn artificial rice production line technological process:
The raw material for corn artificial rice producing is corn flour with 80 meshes. The raw material enters into automatic blender, and is conveyed to the cylinder barrel of the puffing extruder through feeding port by conveyor. The material moves towards the discharging port under drives and extrusion of screw propeller. During this process, the pressure is larger and larger, and the mechanical energy is converted into thermal energy. The raw material temperature rises continuously, and keeps at certain ripening and puffing temperature. After ripening and puffing, the material enters into extrusion moulding machine for continuous extrusion. When the material is extruded from the moulding, it is cut by the pelletizing device, then enters into coolconveyer for cooling. After this, it is conveyed out of the machine. Next, we can air it, and get golden and bright corn artificial rice. We can also produce various shapes of corn and grain food by changing different moulds.
This corn artificial rice production line is the necessary equipment for corn fine processing enterprises to produce various high-end corn and grain processing food.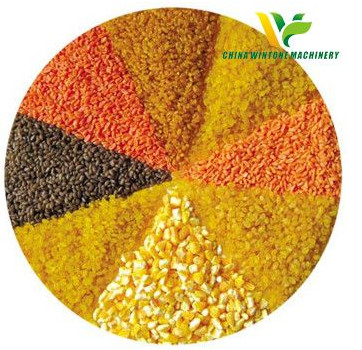 Technical design for corn artificial rice production project:
1. Corn artificial rice production line has several high-tech technology, such as starch small damage powder processing technology, computer batching and computer control technology.
2. Technical principle and technical innovation points:
1) The core technology is the computer control micropore extrusion reengineering technology, which makes the corn starch gelatinization point keep at the optimum value, protects the original nutrition from damage, makes most of the corn nicotinic acid release and makes corn starch generate transparent gel sufficiently. All of the above process ensures the chewy taste and aromatic corn flavor.
2)This project adopts starch small damage powder processing technology, which can retain corn natural flavor and biological activity and improve the color, flavor and taste for end products.
3. Main technology of this project:
1) Micropore extrusion temperature and starch activity control.
2) Die hole and cutting design
3) Health and optimized solution makes the nutrition ingredients is protected effectively.
4) Natural flavor benefits from the best processing methods.
4. Technical route:
1) Innovative technical theory, advanced and concise processing technology, scientific operation route.
2) Attentions to the development of down-stream products, such as rice dedicated for the diabetic, the obese, the elderly and the children.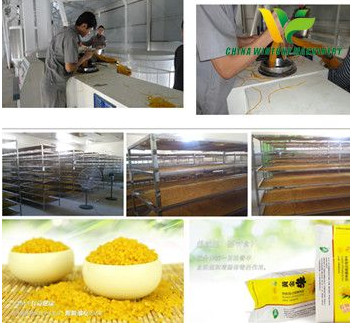 ---
Previous:
SLG Corn Double Screw Extruder
---